Do you have primary or essential hypertension?
Jo Ellis is a Certified Hypnotension Practitioner of the Hypnotension™ programme. This is a unique programme where we work closely with you to naturally lower your blood pressure.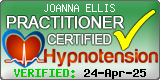 In the Hypnotension™ Programme, we tackle, in a way which is both easy and fun, the most well known lifestyle factors which cause high blood pressure. This unique programme looks at your individual needs and we devise a treatment plan for the most effective way of tackling your high blood pressure.
Over 90% of cases of high blood pressure have no obvious medical cause, which means doctors only work to manage the symptoms, rather than being able to address the underlying issue or issues. There are so many emotional and lifestyle factors that doctors simply don't have either the time or the resources to find the unique combination of factors for each patient.
Often, this will mean a lifetime of medication, uncertainty and worry about the future for many people.
With the Hypnotension programme, YOU are put back in control.
That's because, we are able to take time to work with you to work out the emotional and lifestyle factors that are unique to you and address them so that we can help you to lower or return your blood pressure to levels which are normal.
Common lifestyle factors include
Diet

Exercise

Salt Intake

Alcohol Consumption

Stress Levels
The Hypnotension™ programme uses proven techniques to ensure that your high blood pressure is something from the past.
As your blood pressure reduces naturally, your GP may feel they are able to reduce your medication over a certain period whilst still monitoring your blood pressure. How amazing would it feel if you could walk into your GPs surgery and have them declare your days of high blood pressure are over!
---
How long is the Hypnotension™ Programme
The Hypnotension Programme is taken over six hourly sessions. These may be every week or over a longer duration.
---
Do I need to stop my medication?
No, not initially. We will work in conjunction with GP's so that even if you are using medication to lower or control your high blood pressure you can still use the Hypnotension™ programme to address the underlying hypertension factors.
---
How can I find out more?
Give us a call on 0800 644 0673 or email us about our free of charge consultation to see if the Hypnotension Programme is right for you..
---
Where are you based?
We have two offices - one in Sompting, West Sussex in between Worthing and Brighton and one in Lingfield, Surrey near to East Grinstead.
---
How can I book?
Please contact us to book your initial consultation.
Hypnotension™ Programme.
*According to a study by FJ He, A MacGregor. Hypertension 2003 42: 1093-1099